Good afternoon Leaf fans! Thanks for checking out our latest blog! This weekend I am going to talk about the Leafs recent woes and the impact it may have on the offseason. We've heard of the 'Suck for Luck' campaigns in the NFL, but this year in the NHL will it be 'Fail for Nail', 'Fail for Mikhail' or 'Stumble for Dumba'? Alright, the Dumba one was a bit of a stretch but you get my point.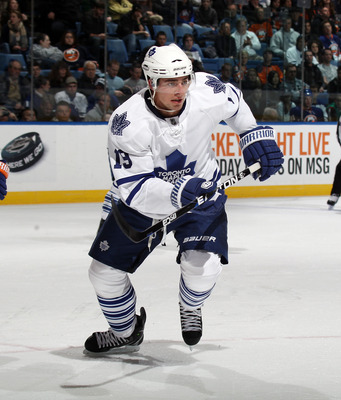 Joffrey Lupul
Since February 7th the Leafs have lost 13 of their last 15 games and the Leafs are in the rear view mirror of the playoffs. Their last win coming in Montreal 3-1 last Saturday(I'll take it). To make matters worse, Joffrey Lupul sustained what may be a season ending separated shoulder. The loss of Lupul, to me, was the last shred of playoff hopes Toronto had left for this season. Now comes the question, do you
hope
to be bad?
Well, to be fair, I would hope no professional hockey team ever wants to lose, if they have any pride at least. But I can't help to hope, even as a Leaf fan that they just keep on losin'. If the Leafs are going to miss the playoffs they should go big or go home. It would do the Leafs a great deal of good to have a top 5, maybe even top 3 selection in the prospect pipeline.
The NHL Draft could be interesting for the Toronto Maple Leafs who currently sit 7th from the bottom of the NHL standings. At the rate they are going, a top 3 pick is not out of the question. Here are the bottom of the standings as of Saturday March 10:
30. Columbus Blue Jackets
22-39-7 51pts
29. Edmonton Oilers
26-35-7 59pts
28. Montreal Canadiens
27-32-10 64pts
27. New York Islanders
28-31-9 65pts
26. Caroline Hurricanes
26-27-15 67pts
25. Anaheim Ducks
29-30-10 68pts
23. Toronto Maple Leafs 30-30-8 68pts
At the pace the Leafs are on, a top 3 pick isn't out of the question, and for the 2012 NHL draft that boasts a very deep draft class, the Leafs could have a future star player on their hands. Here's a quick look at the projected top 3 picks in this year draft.
Nail Yakupov
1.
Nail Yakupov, RW(Sarnia Sting, OHL) 31G 38A 69P 42GP
Yakupov has a certain edge to his game that makes him intriguing. He's not overwhelmingly large at 5'11'' weighing only 189lbs but he brings a lot of excitement to the game every time he touches the puck. Although smaller, Yakupov has obviously drawn comparisons to Russian superstar Alex Ovechkin. While I don't see Yakupov being quite the scoring threat as Ovechkin, he may pan out to be a superstar at the NHL level due to his unmatched speed and great vision along with a deadly set of hands.
2.
Mathew Dumba, D(Red Deer Rebels, WHL) 20G 33A 55P 65GP
From the Red Deer Rebels Mathew Dumba is a skilled defenseman with a tremendous skating stride. Widely praised for his ability to land big open ice hits, Dumba has been compared to Red Deer Rebel alumni
Dion Phanuef
. Not a player I see the Maple Leafs taking, Dumba is most likely destined for the
Edmonton Oilers
who need a young promising D-man.
3.
Mikhail Grigorenko RW/C(Quebec Remparts, QMJHL) 39G 45A 84P 56GP
Another skilled Russian projected to go top 3 is
Mikhail Grigorenko
. In his first season playing hockey in North America for the Quebec Remparts of the QMJHL, Grigorenko has been nothing short of dominant. Currently 7th in the QMJHL in scoring, first among all rookies, Grigorenko could go anywhere in the top 5 this season. As a potential threat to retreat to the KHL his draft stock may slip a little, but there are teams I'm sure that would be more than willing to take the risk to have him suit up for them.
Whatever the case may be, I am always excited to see what happens during the draft and where the Leafs finish could add to that excitement. Keep checking back as the season comes to a close as we will look forward to the draft after the playoffs. In the coming weeks we will be looking at the Maple Leafs prospect pool and players they could look at in the draft to help build on an already steady foundation.
Remember to follow us on Twitter
@LeafsDinosBirds
or Like us on Facebook at
here
.
And if you can't laugh at yourself you're not living, for all my fellow Leaf fans with a sense of humor...