How is it going everybody. As we said in our podcast we are getting geared up for the 2012 Blue Jays season. With that said we are going to reintroduce all of you to the Blue Jays and talk about who they are and what they have done for the team. We will also tell you what we should be able to expect from them this season and give you an inside view on who they are. And to start it off it only seems fitting that we begin with the ace of the Blue Jays pitching staff. That being the 27 year old Cal State Fullerton product, Ricky Romero.
Romero Sporting the New Uniform
After leading the Cal State Fullerton Titans with 13 wins Romero was drafted by the Blue Jays with the fifth overall pick in 2005. Romero struggled early in his career with injuries but by the time 2008 came around he had progressed to AAA. It was at this time that the Blue Jays staff had noticed the potential in Romero and after an impressive spring training in 2009 Romero earned a spot in the Blue Jays rotation. Romero would go on to debut on April 9th against the Detroit Tigers. He would pitch against another young prospect in Rick Porcello. Romero would go on to post a 2-0 record in his first 3 starts. Impressive for a pitcher in the tough AL East. Romero would finish with an impressive record of 13-9. He would strike out 141 batters but he posted an ERA of 4.30. A little high but for his first year they were decent numbers. He was a leading candidate for the AL Rookie of the Year Award that year but would go on to lose it to Andrew Bailey of the Oakland Athletics.
In the 2010 season the Jays saw plenty of change with the trade of their long time ace Roy Halladay. This would push Romero along with Shaun Marcum into a leading roll on the Jays staff. It was now that the Blue Jays were beginning their rebuild into a team of the future. With new GM Alex Anthopoulos the Blue Jays had turned their vision to a young exciting team that could sustain results over the next decade. Romero was one of the big pieces of this project and he did not disappoint. In 2010 Romero posted a record of 14-9 and an ERA of 3.73. An improvement from his rookie season Romero had taken another step into emerging as the staff ace.
When the 2011 season came around Marcum had been traded for prospect Brett Lawrie and Romero stepped into to the role of the staff ace. He would get his first chance at starting Opening Day. He would go on to post a win against the Minnesota Twins in a 13-3 final. Over the season Romero was impressive and it earned him some recognition. He was named to his first All-Star Game and would go to Arizona along with Jose Bautista representing the Blue Jays. At the conclusion of the season the Jays ace posted career highs in wins (15), complete games (4), strikeouts (178), ERA (2.92) and shutouts (2). This solidified Romero as the future of the Blue Jays pitching staff.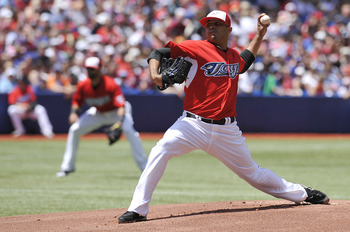 Romero in the Canada Day Uniforms
As Romero heads into the 2012 season he will look to help the Jays get into the playoffs for the first time since 1993. He is one of the best left handed pitchers in the league and has emerged as a true leader on a young Blue Jays team. I would expect to see an even better year out of Romero then he posted last season. I think along with the retooled bullpen Romero should be able to win at least 15 games if not more. He will lead a staff that will consist of Brandon Morrow, Brett Cecil, Henderson Alvarez and the returning Dustin McGowan. A staff that while young is full of talent and should take the Blue Jays far.
Romero loves his Los Angeles sports as he is a big fan of the LA Lakers as well as the San Francisco 49ers. He is active on twitter and you can tweet him @RickyRo24. He is a big family guy as he still lives with his parents in the offseason in California. Like a lot of the Blue Jays he loves to interact with the other teams in Toronto. You can often see him tweeting in support of #TeamUnit which consists of players from the Blue Jays and Maple Leafs. He also likes to have fun with some Raptors as can be seen with his latest bet against Raptors PF Amir Johnson. The bet being that if the Raptors lost to Romero's Lakers that Johnson would have to buy ice cream for his followers. A close bet as the Lakers only won by two points.
Romero has proven he has the talent to lead the Blue Jays staff to the promise land. It will be a great season watching the young team turn into an elite team in the majors. And front and center will be the ace. Ricky Romero. Thanks for your time everybody, remember to follow us on Twitter @leafsdinosbirds. Look out for our next Blue Jays Player Spotlight leading up to the 2012 season.
**Info via bluejays.com, mlb.com**