Helllllllo sports fans! Thanks as always for stopping to read the blog! It is that time of year hockey fans, the time of year fans love and players hate, that's right...the Trade Deadline! Today I'm going to breakdown the significant trades that have happened so far leading up to the deadline and what implications they may have on the Leafs going into the February 27th Trade Deadline.
So far the big movers have been the
Tampa Bay Lightning
and
Philadelphia Flyers
. Philly making depth moves to bolster their blueline and Tampa selling off for draft picks.
Pavel Kubina
Philadelphia made two moves to acquire veteran defensemen to try and fill the gap left by the injured
Chris Pronger
who is out for the rest of the season with a concussion. Last Thursday the Flyers traded a 2nd round pick in 2012 and a 3rd round pick in 2013 to the
Dallas Stars
for defenseman
Nicklas Grossman
. Then on Saturday Philly traded for defenseman(and former Maple Leaf)
Pavel Kubina
from Tampa Bay, a large steady d-man with a big shot from the point. Tampa received mid-level prospect
Jon Kalinski,
a 2nd round draft pick and a 4th round draft pick. Philly is taking the 'go big or go home' approach this year really pushing for a playoff spot as they have traded away four draft picks and a prospect to obtain these two players. However with the acquisition of
Brayden Schenn
in the off season and drafting
Sean Couturier,
Philly can afford to lose a few picks.
After trading away Kubina to Philly, Tampa Bay made two more moves acquiring draft picks for the future. First Tampa traded journeyman centre
Dominic Moore
to the
San Jose Sharks
for a 2nd round pick. The next move Tampa made was swapping right winger
Steve Downie
with Colorado's defenseman
Kyle Quincey
and then flipped Quincey for a 1st round pick from the
Detroit Red Wings.
New Hab Blake Geoffrion
The last significant trade that has happened so far was out of Montreal. The Habs traded defenseman
Hal Gill
and a conditional 5th round pick to the
Nashville Predators
for a 2nd round pick in 2012, Robert Slaney and forward
Blake Geoffrion.
The amazing and most exciting part of this trade is Blake Geoffrion, the grandson of Canadiens legend Bernie 'Boom Boom' Geoffrion, a hall of fame right winger and the inventor of the slap-shot
AND
great-grandson of another Hab legend centre
Howie Morenz
who is an original 12 inductee into the Hockey Hall of Fame. Montreal fans will be chanting this kids name for quite a while and he will be treated like a rockstar in Hab-land.
So how does this affect the
Toronto Maple Leafs
?
Well, with Philly trading for two big d-men essentially replacing
Chris Pronger
, the chances of them trading for Toronto defenseman
Luke Schenn
have been greatly reduced. With the Flyers being the most likely destination for Schenn, chances are he will most likely be staying with the Leafs.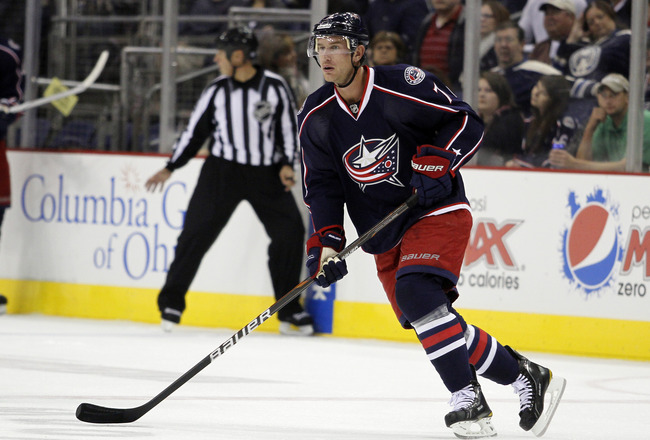 Columbus centre Jeff Carter
Luke Schenn
In past years,
Brian Burke
has been notorious for beating the rush and dealing well before the deadline while being quite at the actual deadline. If Burke is going to continue that pattern, there is a good chance the Leafs will either make only minor deals, or not make any at all. With
Rick Nash's
name being thrown around every day in nearly every rumor from every media outlet, many Leaf fans are preying to whatever god they pray to that he will end up in Toronto. I do not see this happening, you never know, but I don't think it will happen. A more likely scenario would see the Leafs landing
Jeff Carter
from Columbus, he fills a need the Leafs need in a 1st line centre and the asking price would be much less than for Nash. If Columbus were to send Carter to Toronto it
may
still include a package with
Luke Schenn
, but most likely something centered around young prospect
Nazem Kadri
. A lot can change in a week as we all know too well, what is rumored today may be an afterthought tomorrow. So far leading up to the deadline things have been fairly quiet with no big names being moved but all in all the deadline will still be exciting, I for one took the day off work just to keep up with the moves and get some blogs up for you guys!
Thanks as always for taking the time to read our blog, let us know your feedback! Don't forget to follow us on Twitter
@leafsdinosbirds
.
Pictures courtesy of Google images.