As the Blue Jays season nears we bring you our second player spotlight. The big bat in Toronto's lineup for the last two years is someone that a lot of people never really saw coming. When Toronto traded for him from Pittsburgh for a player to be named later nobody looked twice. But after the last two seasons he has turned into one of the most well rounded and dangerous hitters in the entire league. Jays fans know who I am talking about and that is number 19, Jose Bautista.
Photo Courtesy Premier Life
Growing up in the Dominican Republic, Jose dreamed about making a living playing baseball. A very similar dream to most people in the Dominican. The first step of that dream came in the year 2000 when he was drafted by the Pittsburgh Pirates in the 20th round. And after four years his dream came true when he made his debut with the Baltimore Orioles. However, what seemed like a dream would turn into a nightmare. Jose would end up being on five different rosters in his rookie season. Starting with Baltimore he would then move on to Tampa Bay, Kansas City, the New York Mets, and finally back in Pittsburgh where he was drafted. Finally, in 2006 Jose earned a regular role on the Pirates roster. He would take over third base duties from Freddie Sanchez and became a serviceable major league player.
The beginning of the rest of his career began in 2008. After not performing well in Pittsburgh he was sent down to AAA. Another bump in the road for Jose. However he would end up being traded to Toronto before the deadline and became a backup infielder and outfielder for the Jays. In 2009 he also served as a utility player but near the end of the season he showed promise hitting 10 of his 13 home runs on the season in September. Then what I like to call "The Year" happened. 2010 would turn into The Year of Jose. after being named the starting right fielder for the Blue Jays, Jose knew he finally had a consistent role on a team for the first time in his career. Jose began to tear up the league. He hit his 20th home run two months into the season which already topped his career high. And the home runs didn't stop. He would hit his 30th in the month of July. He then broke a Blue Jays record on September 15th by hitting his 47th home run of the year; breaking George Bell's team record that was set in 1987. As the end of the season came along, Jose would finish with 54 home runs which was the highest total since 2007 when A-Rod did it. He also became the 26th player in history to hit over 50 home runs. His final stats for the 2010 season was 54 Home Runs, 124 RBI's and a .260 average. Over the course of the season he was named to his first all-star game, won the Hank Aaron Award, and a Silver Slugger. However he would finish fourth in MVP voting. It was the season nobody saw coming, and it would continue.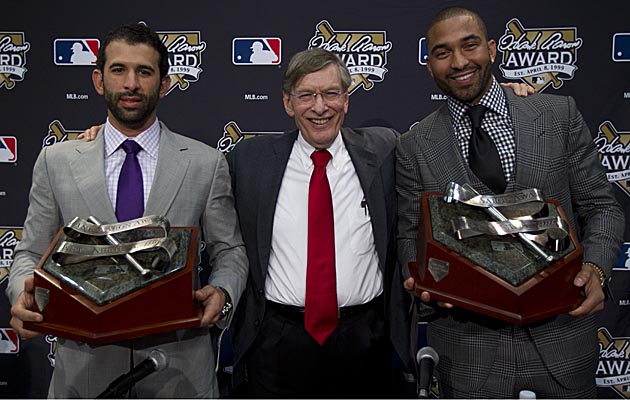 Photo Courtesy CBS Sports
After his breakout season Jose would sign a huge 5 year $64 million dollar contract with Toronto. A number many were shocked by. Experts across the league were claiming 2010 to be a fluke and that Jose would drop off and revert back to being a nobody in the league. Comparing him to the likes of Brady Anderson who would hit 50 home runs in 1996 but never came close to that mark again. Also, in the age of steroids Jose was targeted by many as having taken performance enhancing drugs. Jose is tested more than almost any player and has never failed. Something he takes pride in. As the 2011 season began Jose began proving doubters wrong. He started the season off with a bang hitting his first of the year on Opening Day, a sign of things to come. By the all-star break Jose led the league in home runs with 26 and also led in walks, OPS, OBP, and slugging percentage. He was also near the top in many other categories. He would set a record for votes in an all star game with a staggering 7,454,753. Jose would finish the season with 43 home runs and while it was less then his 54, he still led the league becoming the first player since Mark McGwire to do so. He also finished the season with 103 RBI's and moved his average above .300 to a mark of .302. Jose showed he was truly an elite hitter and during 2011 showed he about more then just the long ball. He would once again win both the Hank Aaron award as well as a Silver Slugger, but once again fell short in the MVP race to Justin Verlander of the Tigers.
As we enter the 2012 season there is a sense of optimism around the Jays. A core of young promising talent waiting to break through. However the league must be aware of the man who has risen to the top of the league. At 31 Jose is in his prime and should continue to produce. And with the help of the other young sluggers on his team, he should be able to push Toronto to its first postseason birth since 1993. He is a proven leader and has shown the willingness to do what it takes for the team to win. He has switched positions when it would benefit the team and did it with a smile. With Brett Lawrie entrenched at third base, Jose should finally get to play a full season in right field. It should be an exciting season and I for one can't wait to see what Jose pulls out of his bag of tricks this year.
Thanks again and remember to follow us on Twitter @leafsdinosbirds
Info via MLB.com and bluejays.com