Hello everybody! We've really appreciated all the support and are excited with all the readers we've had and feedback received. We haven't had much chance to get an NBA blog up yet with the NHL All-Star weekend recently but here it is!
Draft pick Jonas Valanciunas(left) with GM Bryan Colangelo(right)
Coming into the 2011/12 NBA season
Bryan Colangelo
preached patience while still maintaining optimism for the future of the franchise. After drafting 6'11'' C
Jonas Valanciunas
from Lithuania with the 5th overall pick in the 2011 NBA draft, Colangelo had good reason to be optimistic. I must admit, I really wanted Toronto to draft
Kemba Walker
(who had a triple double against the Wizards last Saturday, but that is besides the point) but I'm not hating what we ended up with. The Raptors have a bright future ahead of them, but also have some significant decisions to make between now and next season. Do they give up
Andrea Bargnani
, Calderon and Barbosa among other veterans and completely blow it up and start from scratch? Or do they hold on to Bargnani and continue to build around him? Had I been asked this last year, in all likelihood I would have said they should trade Bargnani first and foremost and rebuild. Now? I'm not so certain. Andrea has been an absolute force for the Raptors this season, albeit when healthy. Without Il Mago in the lineup the Raptors tend to look lost, listless and often do not score enough to be able to compete with even mediocre NBA teams.
For example:
Toronto Raptors record
with
Bargnani in the lineup is 6-9 (.400).
Toronto Raptors record
without
Bargnani in the lineup is 2-7 (.222).
An 18% difference in winning percentage without Andrea playing. Need more stats? Sure! I'm a stats guy too so take a look at these numbers:
Andrea Bargnani
Toronto Raptors points per game
with
Bargnani in the lineup is 88.26ppg
Toronto Raptors points per game
without
Bargnani in the lineup is 83.44ppg
A difference of 4.82ppg is a significant difference in scoring output. Without Andrea Bargnani in the lineup Toronto looks like a different team altogether.
Toronto need Bargnani healthy and scoring, but they also need secondary scoring from their other players. Having Bargnani play 48 minutes and score 40 every game isn't exactly sustainable for the Raptors to win, he will have off nights, he will have slumps and he will get cold from time to time. Demar Derozan has shown he can play with the best of them at times, he has also done his best David Copperfield impersonation and completely disappear.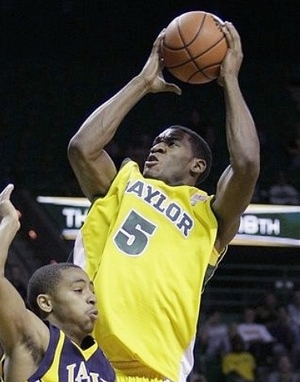 Baylor SF Perry Jones
All and all Toronto will most likely finish in the bottom 5 and have yet another lottery pick. This year is chalked full with talented Power Forwards like Kentucky's
Anthony Davis
, Ohio State's
Jared Sullinger
and North Carolina's
John Henson
and big Small Forwards such as Baylor's
Perry Jones
and North Carolina's
Harrison Barnes
which will present another intriguing dilemma for the Raptors GM. Should he take a chance on drafting a player that may not have the high ceiling potential of some of the Power Forwards in the draft to fill other needs OR should he trade Ed Davis and potentially get another lottery pick in return and then draft a big man? Whatever the case may be, the next 6 months will be pivotal to the Toronto Raptors future and their hopes at one day FINALLY making it back to the post-season.
Thanks again for reading and don't forget to follow us on Twitter! @leafsdinosbirds