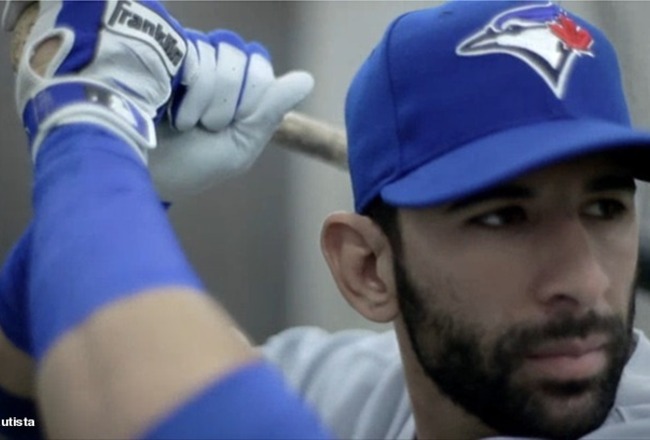 TSN.ca announced today that Jose Bautista has been named the cover athlete for the wildly popular game, MLB 12 The Show. Bautista will appear on the Canadian editions of the game which will do well in boosting sales of the already successful game north of the border. This will be the first time that the game has had two different cover athletes. Adrian Gonzalez of the Boston Red Sox will appear on other versions of the game.
While this may seem like something small I feel as if it is a showcase of how far Bautista has come over the last two seasons. He has shown that he is an elite player in the Major Leagues after not getting much of a chance early in his career. Toronto gave him that chance and looking back I am betting Pittsburgh regrets losing him. His breakout season was in 2010 where he appeared in 161 games. During that season he had a .260 batting average and drove in 124 RBI's. But the big statistic was the home runs. Bautista hit 54 home runs that season to lead the major leagues. This was an eye opener to everyone around baseball. In the offseason he was rewarded with a big raise. He was given a 5 year $64 million dollar contract. A contract that showed that the Blue Jays knew he was for real. And in 2011 he proved all the doubters wrong. Bautista led the majors again with 43 home runs. While this was a drop off in home runs he improved his walk rate as well as hitting for an average of .302. He showed that he was about more then just the long ball. He was becoming an elite all around bat that every team must plan their attack around.
This is an accomplishment that shows that Jose is finally gaining the recognition that he deserves among the best in baseball. This will be a big year for the Blue Jays and Jose will be front and center all year. It should be a fun season and we look forward to covering it all from spring training right to the end of the season. Below is a trailer for MLB 12 The Show featuring Jose Bautista.
Be sure to show Jose your support by picking up a copy of the game when it releases on March 6th, 2012 only for the Playstation 3 and Playstation Vita.
Remember to follow us on Twitter @leafsdinosbirds.
**Information via TSN.ca and MLB.com**